Customized, Speed, and Security
Responsive Websites
One detailed invoice
Unified Approach
Novosteer's complete all-in-one custom website provides one detailed invoice. We provide a comprehensive cutting-edge digital platform with all the bells and whistles. Custom design goes beyond graphics. Using Artificial Intelligence (AI) at its core working tirelessly 24/7 to continuously captivate your visitors, we deliver results. With custom themes and custom-built pages, we have your goals in mind. When launched, your dealership will work closely with our team to ensure your digital store accurately represents your physical store with a seamless transition from the digital experience to the live on-site one.
Boost online visitor conversions with continuous touchpoints

Optimize SERP results across all departments

Shop from Home with Novodesk complete retail solution

Capture engagement with Novotrade-in and Novoscore

Establish trust and build sentiment
Generate quality leads from every page
Syndication and Inventory management
OEM compliant with custom themes and video
Machine learning and Data Science for high-level decisions
This is a proprietary platform 100% all-in-one digital storefront dedicated to the automotive industry. Military-grade security utilizing the fastest state-of-the-art cloud-based architecture that sells more cars.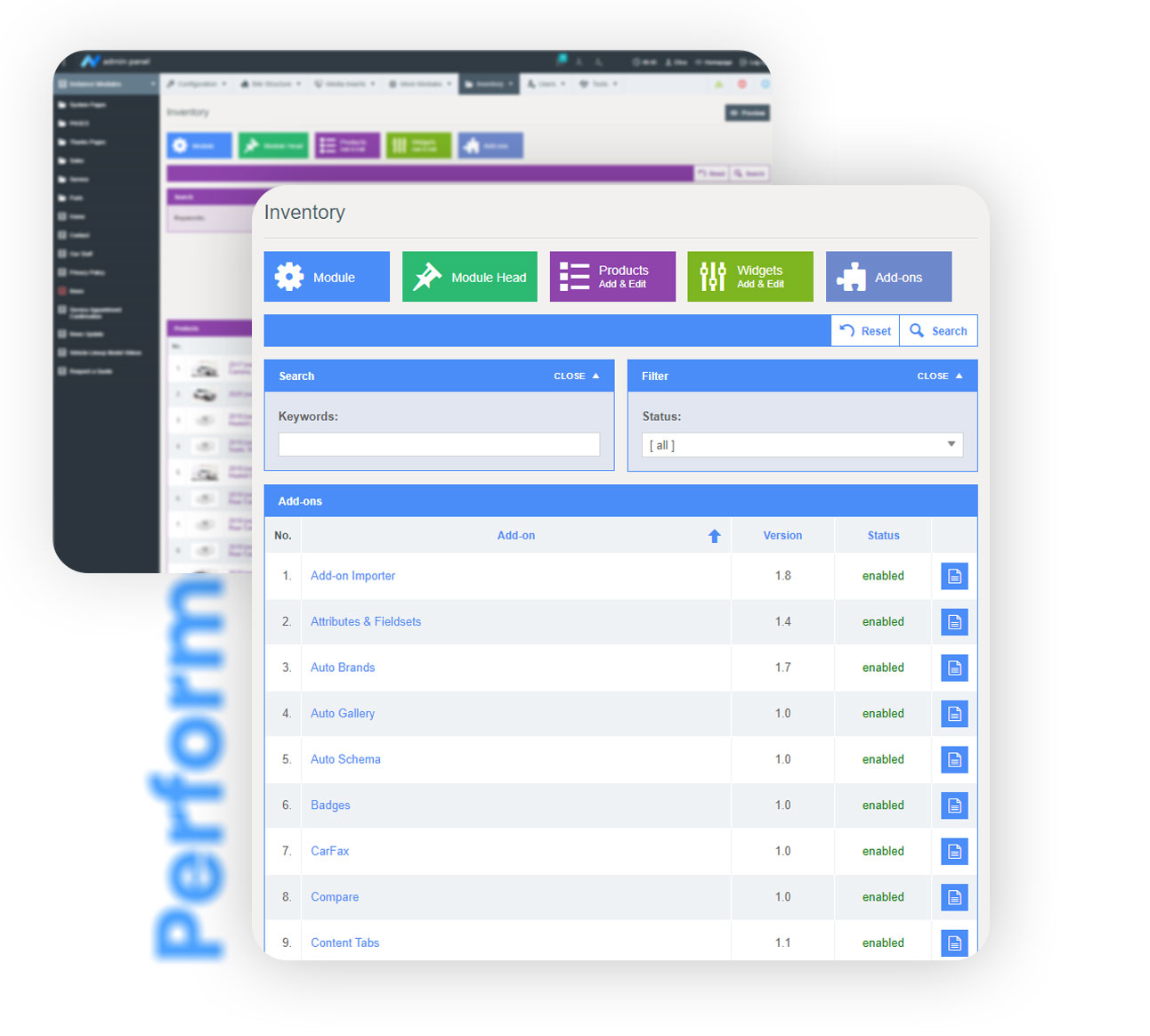 PERFORMANCE IS KEY
Custom-made platform for auto dealerships
Built from the framework up, our platform has a best-of-breed Content Management System (CMS) at its core with a premium product inventory module and a fully integrated CRM solution, as well as an entire suite of application programming interfaces (APIs). Automate important decisions with embedded Machine Learning and Data Science.This architecture produces blazing speed and customizations at your fingertips with no programming knowledge required
Its modular architecture allows the deployment of specific features on an as-needed basis, which improves scalability and overall performance.
CMS Video Chat Support
Permission-Based CMS Access
Visitor Tracking
Unlimited POP UP Offers with redirect Goal Page
Department Branding
Grid or Listings View
Website Goal Pages
Custom relevant and important CMS dashboards
This is a proprietary platform 100% dedicated to the automotive industry, not word press (WP) or any other open-source software. But the best part of being completely new is that it addresses all the problems of preceding systems in the automotive industry.
PROPEL YOUR BUSINESS
The fastest inventory database design
We know you wouldn't make a potential client wait in the showroom so we guarantee the quickest and most satisfying inquiry experience for your visitors.
1.9 Sec Upload Time
Advanced Search Filters
Showroom Model & Trim Pages
Vehicle Compare
Shop from Home with accurate rates, terms, and F&I
Custom / Booking Forms
Pricing Adjustments & Control (Flexible Formula)
Nowadays, even a few fractions of a second can translate into missing out on valuable leads and revenue. Many providers claim they are the fastest, we insist on proving it.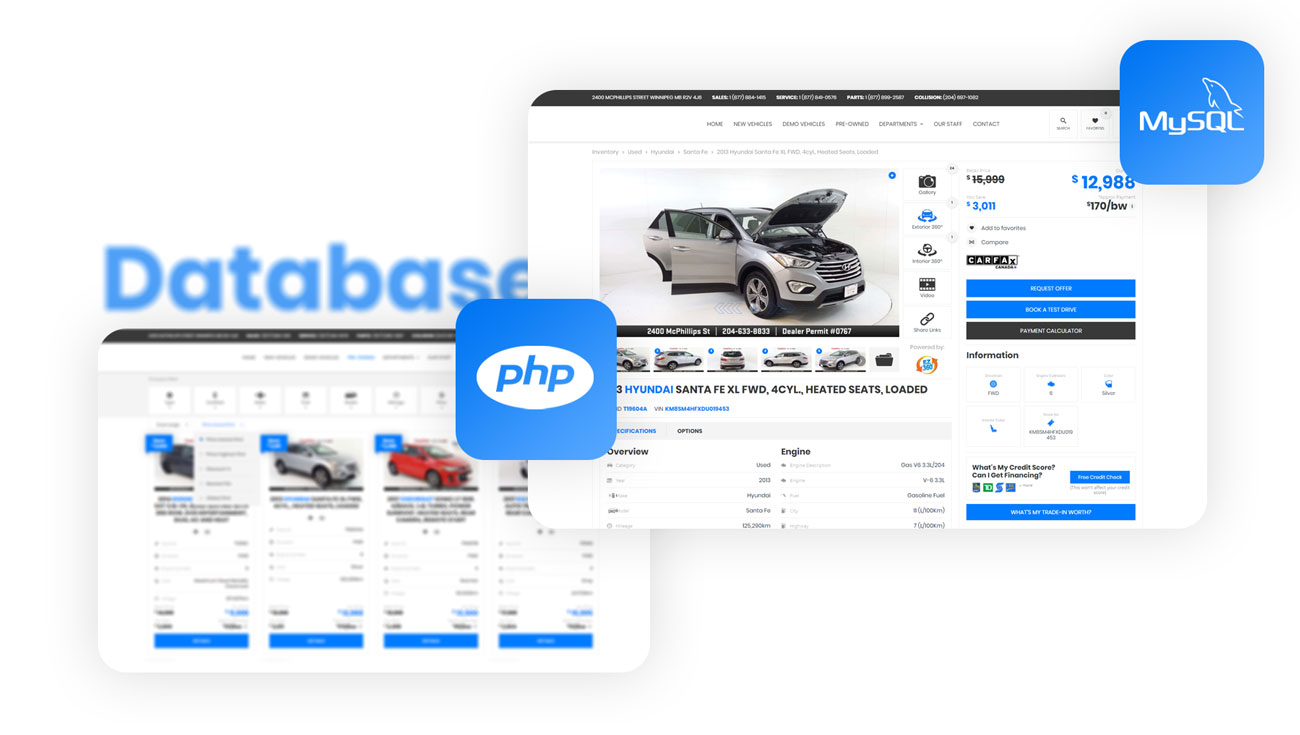 COMPLETE FUNCTIONALITY
Advanced features at a click of a button
Our product inventory system is designed with the precision of an assembly line. Most of the work is automated with the remaining interactions easy and efficient.
New Vehicles
Used Vehicles
Data Intelligence
Vehicle VIN Decoder
Live Instant updates
Unlimited Syndication
Window Sticker
Print Vehicle Page
All the tools you need to get in touch and accelerate the purchasing decision of your potential clients. At the end of the day, no matter how many high-end technologies you use, it all comes down to connecting people with people.
Live Chat
Chat Transcripts notification
Chat CRM integration
SMS Text Phone Number
Call Recording
Lead Call Group Distribution
Video Chat
We have you covered with search engines and connected with the best data sources so you can make better decisions. Interactive digital tools push your marketing efforts forward. Top-tier integrations and partnerships with the leaders in automotive technology allow for easy transition with maximum capabilities. Novosteer's all-in-one platforms deliver the best that technology has to offer.
Google,Bing APIs (All)
Cloud APIs (AI, ML, Analytics)
JD Power
Black Book

Equifax

Kijiji

,

Trader
Vin Solutions
Our content management system features a Google Data Studio integration and a set of powerful native modules that you can use to manipulate and export captured data in various file formats.
Google Data Studio
Leads Reports
Daily Manager Reporting
Dashboard Filters
Reports w/ Filters
Daily Notifications
READY FOR ACTION
Outside & under the hood
360 Photo Solutions
Powerful & engaging with full control over 360 movement, animation look and feel.
Custom Themes
Fully responsive on all browsers with the same URLs for mobile devices.
Video Gallery
Customizable, lightweight & mobile friendly, plays all popular video formats & sources.
Newsletter System
Supports multiple outgoing email servers based on SwiftMailer & PHPMailer libraries.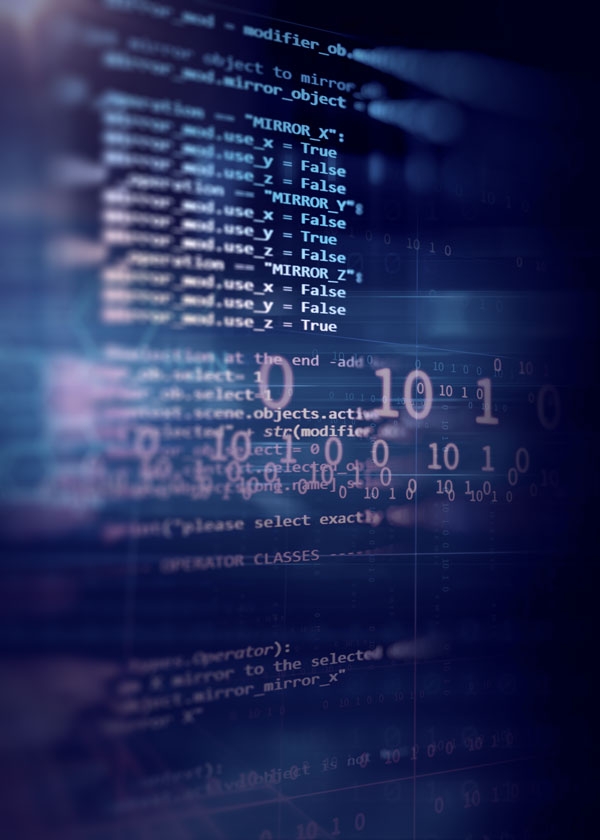 Secure SSL
The most up-to-date TLS certificates and a platform immune to code injection attacks.
24/7 Support
In-house support team that truly knows your business and is hands-on involved.
Country / IP Blocking
Automatically detects domains & IPs; anti-spam features: email burner lists, Akismet integration.
User Accounts & History
User groups with permissions, profile editing & changes log, local & social authentification.
GO FOR A TEST DRIVE
Schedule a demo!
Get a first-hand feel of the brand-new Novosteer experience everybody is all geared up about.