Precise Market Evaluations
NovoTrade-In
Win the trade and Win the deal!
A Powerful Vehicle Trade-in tool
We have created the most advanced custom-made vehicle evaluation tools for automotive dealers with Novotrade-in. We use Machine Learning and Data Science to automate vehicle evaluations and pricing. We pull market data from tens of millions of live sources and provide the information instantaneously in a convenient and easy-to-use dashboard. Our NovoTrade-in tool is completely customizable and provides both the shopper and dealer vast amounts of market data to establish a bridge of trust with shoppers while keeping the dealer in the driver's seat.
LIVE DATA IS KEY
All-in-one vehicle valuation saves time and money
Designed and Built using the richest data sources to give dealers and consumers the most accurate and detailed vehicle valuations. We pull data from millions of live sources in real-time in order to show instant market conditions. Wholesale and Retail data are displayed with the touch of a button for inventory merchandising, retail sales as well as trade appraisals. Hot vehicle listings in your market or across the country to view consumer trends and preferences. History adjusted values are included to save Big Money on accident reports. Data Science is employed in our investment value algorithms to optimize profitability. Customizable reports that can adjust wholesale and retail values for specific vehicles or ranges to display and advertise your dealership's unique values and promotions.
From Inventory pricing and stats to trade valuation and cash offers, these advanced appraisal systems are designed to quickly and accurately lead the market and win more deals while reducing costs.
Phone App to load pictures and scan VIN
Customizable detailed consumer Trade Valuation Reports
Email print reports with rich display and call to action
Customizable presets for live market metrics
Retail links to in market VDP competitors
Hot vehicle metrics with range adjust
Bank valuation data to get more approvals
Valuation adjustment to consumer (Highest trade value offered)
Differentiate trade values and win more deals!
Control your evaluations with Novotrade-in
The most advanced trade-in tool available. Customize your retail and wholesale values in real-time. Show shoppers more money and get the lead. Consumer web reports with accurate valuations pulled from millions of data points in real-time. Consumers build an accurate deal using actual realistic values from exact matches in their area. Build trust and move customers forward in the sales cycle. Pinpoint advertising budget using your own exclusive promotions. Get high click-through with rich email templates and calls to action.
Customers take or upload trade pictures from any device
Customizable detailed consumer Trade Valuation Reports
Email Print Reports with rich display and call to actions
Customizable valuation presets to build real value and trust
Valuation adjustment to the consumer, show separate Dealer Trade BONUS
Present current specific retail market data to solidify trade value.
Customer select by VIN, Manual select, license plate, or History
Customize dealer services for recon, markup, advertising, certification, and more
Win the trade negotiation online and win the deal with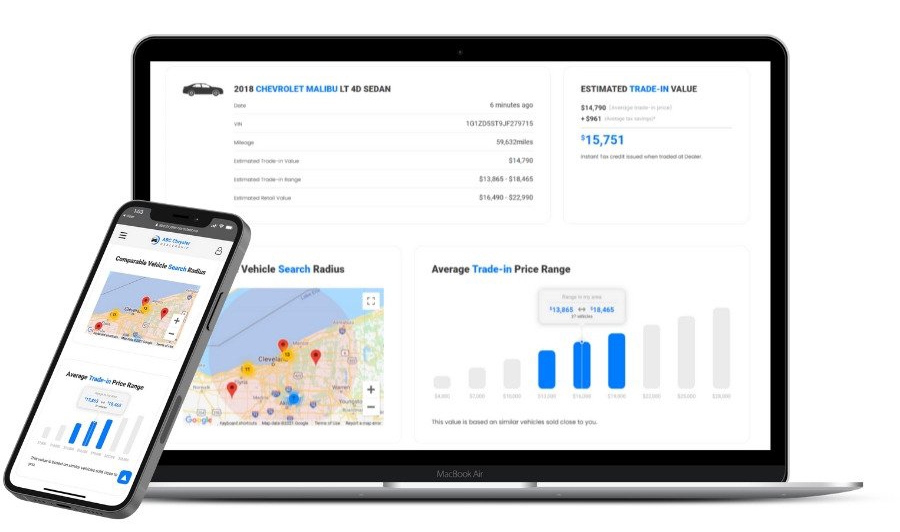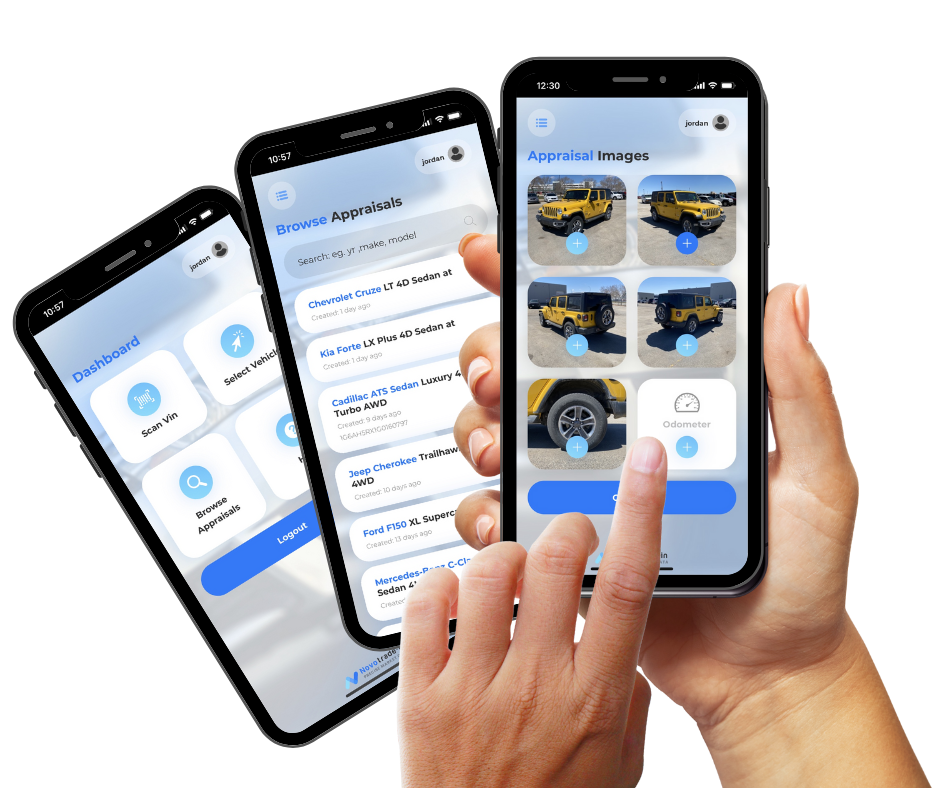 REAL TIME INTEGRATION
Mobile Application integrates seamlessly
for everyday use
80% of online shoppers use mobile devices when shopping for their next vehicle. Using the NovoTrade-in Mobile App allows sales staff and shoppers to upload trade information and pictures right onto your device, making seamless in-store and at-home trade evaluations possible.
Completely from their mobile device users can scan VIN's, take and upload photos, enter vehicle information and add notes instantly to your trade tool dashboard.
Having mobile trades allows you the flexibility to work with shoppers in any situation, build trust and close more deals.
GO FOR A TEST DRIVE
Schedule a demo!
Get a first-hand feel of the brand-new Novosteer experience everybody is all geared up about.