DIGITAL STRATEGY ESSENTIALS
Social Media
Social media brand presence
Lower Cost Quality Leads
The Novosteer Facebook Certified Team has in-depth Automotive knowledge and experience that outperforms the traditional methods. Our dedicated Social Media Marketing Team will execute strategies driving increased ROI by reaching more people. Dealerships build trust, loyalty, and communication by directly targeting potential clientele in real-time with transparent and relevant social advertisements.
Drive Results that Convert
Taking the Lead on Modern Methods
Automotive Social presence is a major driver of brand consideration. We actively work with dealerships to develop custom strategies that target their niche market. With our expertise and innovative strategy, we attract quality leads. Build trust, loyalty, and communication by directly targeting users in real-time with transparent and relevant social advertisements. Our low-cost high result ads will deliver top-tier quality results with proven conversions.
We integrate Automotive Dynamic Catalog Ads that put your inventory in front of your local market. This performance strategy can direct post leads directly into the CRM for a more streamlined connection.

Bring your Social presence to the next level
Our team is available
to manage your social branding
We bring your social media to life. Our team can moderate and interact with customers, handle disputes and post customized content on behalf of your dealership.
Our Organic Marketing Team expertise is optimizing strategy. They utilize best practices to ensure that your profile has the latest up-to-date information benefiting the page Key Performance Indicators (KPIs). Looking across all organic channels we follow page action to discover habits, interests, and impact on SEO traffic. Our strategy is designed to follow your goals and enhance your digital image by creating unique content that aligns with your branding.
We truly believe in the human experience. By analyzing data across social platforms, we can identify new opportunities using the latest innovations to improve your results.
To further drive organic SEO our Team actively works to optimize the Dealership's Google My Business profile. We ensure that accurate data is being displayed while also utilizing Google Posts to display the latest industry information along with product features.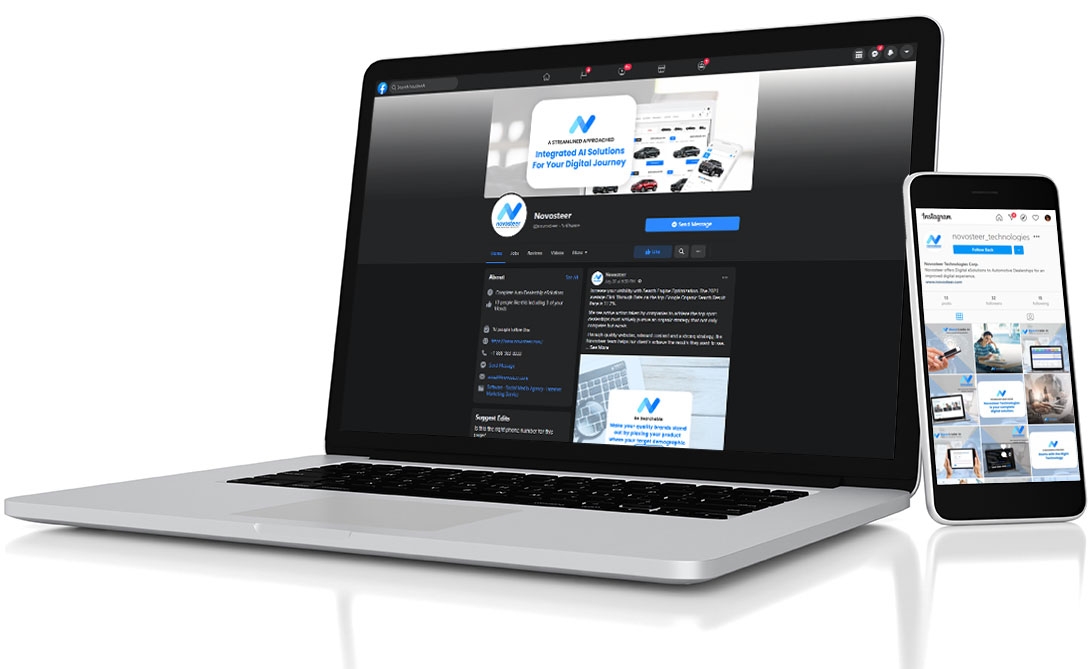 Catalog Ads
Dynamic Catalog Ads deliver in real-time in-stock inventory. These low-cost high converting ads drive engagement by dynamically presenting the most likely to convert inventory in front of the potential client.
Facebook Pixel
Our Facebook Certified Developers place the Facebook Pixel on the dealership's website to start collecting data, effectively showing you insights and target audiences. Utilizing the Pixel data we can drill down audiences for retargeting.
Dynamic Retargeting
Our multi-step retargeting strategy works with your dealership's sales funnel, delivering ads relevant to the buying stage your potential client are in.
Cover Photo
Your cover photo is a branding opportunity. It's one of the first things a customer associates with your business. To ensure brand consistency our team mirrors your monthly promotions with custom banners on your FaceBook Cover image.
Organic Posting
We offer organic posting. By working with the Digital Manager at the dealership our team collects in-house delivery photos, promotional material, and OEM specials to highlight throughout the month through feed posting and story posts across Facebook and Instagram.
SUCCESS MEASURED
Social Highlights
24/7 Support
An in-house support team that truly knows your business and is hands-on involved.
Custom Audience
Through custom audiences, our team will build ads directly targeting in-market relevant consumers.
Ad Focus
We create an experience with a smooth seamless process by delivering a clear path of intent while delivering relevant information.
Retargeting
Retarget or create look-a-like audiences based on DMS integrated data.
Custom Themes
​​​​​Novosteer builds quality custom designs, custom content, and strategies designed specifically for your business.
Transparent Reporting
The transparent reporting will deliver easy-to-read data, allowing dealerships to actively keep up to date with their advertisement results.
GO FOR A TEST DRIVE
Schedule a demo!
Get a first-hand feel of the brand-new novosteer experience everybody is all geared up about.